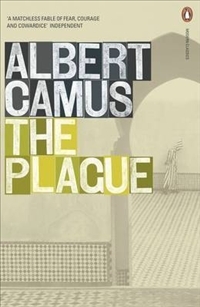 Title:
The Plague
Author:
Albert Camus, Translator: Robin Buss
Publication Date:
1947
ISBN:
 0141185139
Pages:
238
Genre:
Absurdist Fiction, Philosophical Fiction
Format:
Paperback
Add it:
Goodreads
Buy it:
Amazon
|
Book Depository
The townspeople of Oran are in the grip of a deadly plague, which condemns its victims to a swift and horrifying death. Fear, isolation and claustrophobia follow as they are forced into quarantine. Each person responds in their own way to the lethal disease: some resign themselves to fate, some seek blame and revenge, and a few, like the unheroic hero Dr Rieux, join forces to resist the terror. In part an allegory of France's suffering under the Nazi occupation, The Plague is a compelling depiction of bravery and determination pitted against the precariousness of human existence.
My thoughts
This was a school assigned book and we just finished the unit on Friday. I have to say that my teacher, Mr. Johnson, perfectly described it as being "eight pages of plot." This novel more focuses on existentialist philosophy, more specifically absurdism. Absurdism is the idea that humanity's efforts to find inherent meaning will fail and are thus unnecessary or absurd. Basically, there is no reason for why things happen.  This central idea is seen especially clearly during the conversations and interactions among Dr. Rieux, Tarrou, and Father Paneloux. Towards the end of the novel this idea is heavily investigated as the plague seems to leave the town of Oran.
I really liked how the plague itself wasn't the focus of the novel and was instead a vessel to explain an idea. However, the lack of an identifiable narrator (we don't find out until the end) was frustrating sometimes. It made connecting and identifying with other characters extremely difficult and while this may have been the intent, I prefer books in which I can feel something for another character. I also found myself slightly bored throughout the novel, mainly because of the writing style. The beginning was very slow and the number of dates in the beginning was annoying to keep up with even though they served no purpose.
Overall, I found the book to be pretty good. It's not the greatest piece of literature I've ever read but for something that was meant to explore a philosophical idea, Camus did a really good job. I wouldn't recommend this book to a lot of people and it is most certainly not for people who are expecting plot or anything exceptionally gory. If you're looking for a book that explores existentialist ideas, then this is most certainly the book for you.
Rating