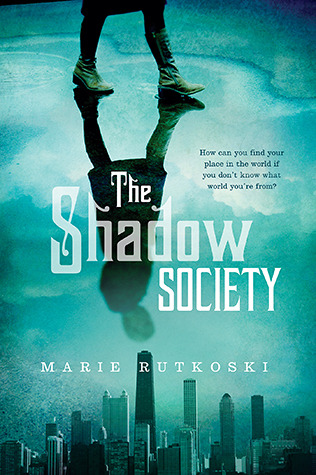 Title: The Shadow Society
Author: Marie Rutkoski
Publication Date: 16 October 2012
ISBN: 0374349053
Pages: 416
Genre: Paranormal Romance, Mystery
Format: Hardcover
Add it: Goodreads
Buy it: Amazon|Book Depository
Darcy Jones doesn't remember anything before the day she was abandoned as a child outside a Chicago firehouse. She has never really belonged anywhere—but she couldn't have guessed that she comes from an alternate world where the Great Chicago Fire didn't happen and deadly creatures called Shades terrorize the human population.
Memories begin to haunt Darcy when a new boy arrives at her high school, and he makes her feel both desire and desired in a way she hadn't thought possible. But Conn's interest in her is confusing. It doesn't line up with the way he first looked at her.
As if she were his enemy.
When Conn betrays Darcy, she realizes that she can't rely on anything—not herself, not the laws of nature, and certainly not him. Darcy decides to infiltrate the Shadow Society and uncover the Shades' latest terrorist plot. What she finds out will change her world forever . . .
I picked up this book at the library for the sake of procrastination. I wanted an easy read, something that didn't require me to think too much. And this book fulfilled it's purpose well.
I didn't really like the beginning of the book. It felt very middle- grade, Darcy was whiny and it started out like a very typical, stupid love story. But when Conn betrays Darcy, she does grow up and starts making better decisions. But even with her growth, she doesn't seem to fit the age she was portrayed as (17, if I remember correctly). While I understand that 17 year olds don't make the best decisions, hers were exceptionally poor. Moreover, she was involved in this horrible love triangle with two guys who were equally mentally abusive and manipulative. To make matters worse, instead of walking away from the romance she embraces it. It was irritating.
But I have to give credit to Marie Rutkoski for having very in-depth imagery. This is a novel where you are transported into the world, where you're experiencing what Darcy is experiencing. It's a very well described world. On the same note, she doesn't give much explanation on how everything came to be. For example, I'm not sure how the alternate world got there or how anything at the end came to be (not specifying because spoilers).
Overall, there was a lot of potential here. It was obvious that this was the first time that Marie Rutkoski was writing in the YA genre. If you're looking something that's an easy, no commitment, just okay type of book, feel free to pick this up. Will I be recommending it to any of my friends? Probably not.
Rating