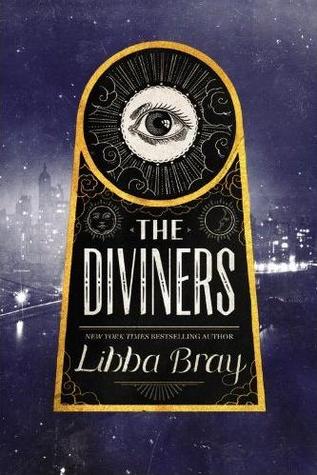 Title: The Diviners
Author: Libba Bray
Publication Date: 25 August 2015
ISBN: 031612611X
Pages: 578
Genre: Paranormal Historical Fiction
Format: Hardcover
Add it: Goodreads
Buy it: Amazon|Book Depository
Evie O'Neill has been exiled from her boring old hometown and shipped off to the bustling streets of New York City—and she is pos-i-tute-ly ecstatic. It's 1926, and New York is filled with speakeasies, Ziegfeld girls, and rakish pickpockets. The only catch is that she has to live with her uncle Will and his unhealthy obsession with the occult.
Evie worries he'll discover her darkest secret: a supernatural power that has only brought her trouble so far. But when the police find a murdered girl branded with a cryptic symbol and Will is called to the scene, Evie realizes her gift could help catch a serial killer.
As Evie jumps headlong into a dance with a murderer, other stories unfold in the city that never sleeps. A young man named Memphis is caught between two worlds. A chorus girl named Theta is running from her past. A student named Jericho hides a shocking secret. And unknown to all, something dark and evil has awakened.
I'm glad I decided to listen to all the hype on booktube about this book. I've been hearing all about it for quite a while and the premise seemed interesting.
One of the first things I noticed about this book was its accuracy to the time. From the descriptions all the way to the speech patterns, it's clear that Libba Bray spent quite a bit of time doing research. From this alone you feel as if you are planted solidly in the 20's. I really enjoyed that aspect of it. Another thing I thought was well written were each of the murders that Evie follows. We, the readers, learn about the murders before Evie does meaning we have details and context that she doesn't. It's interesting to see the levels of speculation that the characters do and their process when you know so much more than them.
The character development was done exceedingly well in this story. We see through two main perspectives- Evie and Memphis- and little bits and pieces of a few of the other characters. I really enjoyed reading through Memphis' eyes because his emotions were very real. I related more closely with him than I did with Evie.One of the other minor characters who I really enjoyed was Theta. Her back story was so unique to this plot and she was an all around interesting character. She was, despite being minor, a round character who showed some growth.
There weren't very many characters that I particularly enjoyed in this book unfortunately. There is no specific reason for why I didn't completely enjoy Evie's character but I just didn't like her. It might be because she was somewhat an attention hog and had a "holier than thou" attitude. Jericho was a wimpy character who doesn't serve much purpose until nearly half way though the book.
However, overall I felt my dislike for some of the more major characters didn't detract from my enjoyment of the book. It was well written, historically accurate, with a very interesting plot. Getting to the ending was very intense and learning about the history along the way was really quite amazing. If you're interested in a good, based in historical fact, paranormal book, pick this up.
My thoughts