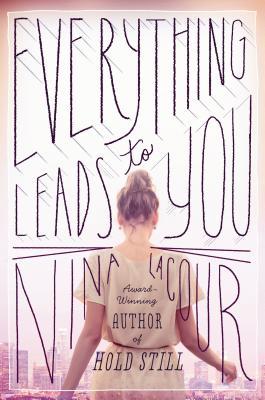 Title: Everything Leads to You
Author: Nina LaCour
Publication Date: 15 May 2014
ISBN: 0525425888
Pages: 307
Genre: Contemporary, Mystery, Romance, LGBTQ+
Format: Hardcover
Add it: Goodreads
Buy it: Amazon|Book Depository
"I want you to do something with the place. Something epic."
After being entrusted with her brother's Los Angeles apartment for the summer as a graduation gift, Emi Price isn't sure how to fulfill his one condition: that something great take place there while he's gone. Emi may be a talented young production designer, already beginning to thrive in the competitive film industry, but she still feels like an average teen, floundering when it comes to romance.
But when she and her best friend, Charlotte, discover a mysterious letter at the estate sale of a Hollywood film legend, Emi must move beyond the walls of her carefully crafted world to chase down the loose ends of a movie icon's hidden life, leading her to uncover a decades' old secret and the potential for something truly epic: love.
My thoughts
I would first like to point out that I generally don't enjoy romance novels, I think they are far too predictable. However, I think that LaCour handled the romance in Everything Leads to You in a manner that made it less predictable. Shockingly, I was somewhat reluctant to label this as a romance novel because I feel that it wasn't a major point in the novel; it was more something that just happened (as it would in real life). And that's one half of the reason why I thoroughly enjoyed the romance aspect to this novel. The other half comes from the LGBTQ+ aspect of this book. It was nice to read a novel where the main character, Emi, identified as lesbian and it wasn't the most important part of the novel. It was merely a trait that belonged to the character just like it would be if a character was straight.
Emi herself was such a relatable character, from the way she reacted to new situations to when she was reprimanded for her choices. She was a fun character to read about. And LaCour did a fantastic job of articulating Emi's vision in a way that I, as someone has very little design skills, could visualize. Emi was also what I would consider a strong female character. Not in the physical sense that other strong female characters often are, but in the fact that she had opinions, which she believed in, and she was willing to admit her own faults.
Emi's friend Charlotte on the other hand felt more like a stock character which disappointed me. She was the stereotypical "I hate my friend's ex-girlfriend" type of girl. Snippy and rude but silent. I wished that her character had been a little more flushed out and that we would see more of who she is. I thought it was interesting that LaCour seemed to spend more time on creating the parents, who we spend only a few pages with, than she did with Charlotte. Maybe it's because she liked Emi's parents more than she liked Charlotte. But I can't complain too much about getting to now Emi's parents because they are interesting and eclectic and fun people. They were also integral to getting deep in the mystery of the novel that I can't be too displeased.
The mystery in this novel was perfectly intertwined with the realities of the world that it felt like it could actually happen to a regular person. We follow along as Clyde Jones' child tries to figure out more about the life that they never got to live. It was interesting to get glimpses of the life of this person as they themselves are figuring it out. I can't say too much because I'd hate to spoil it for you guys.
I think LaCour made an interesting decision to choose Emi as the main character and not Clyde Jones' offspring because it forced her into writing a slightly more difficult novel. LaCour could have made writing this novel really easy because it would have been an interesting story nonetheless but seeing another person's life unfold and not knowing how they're feeling and conveying that emotion to the readers shows LaCour's grasp on what writing is. Anyone whose interested in a novel with little mystery and a little romance in today's world would really enjoy this book. It's fantastic literature with well developed ideas and makes for a fun read. I would recommend it to anyone who wants something that's slightly different than the usual contemporary novel.