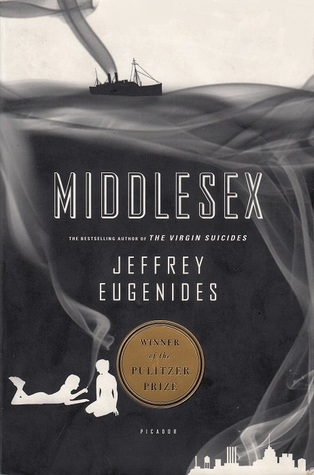 Title: Middlesex
Author: Jeffrey Eugenides
Publication Date: 16 September 2003
ISBN: 0312422156
Pages: 529
Genre: Contemporary/ Historical Fiction
Format: Paperback
Add it: Goodreads
Buy it: Amazon|Book Depository
Middlesex tells the breathtaking story of Calliope Stephanides, and three generations of the Greek-American Stephanides family, who travel from a tiny village overlooking Mount Olympus in Asia Minor to Prohibition-era Detroit, witnessing its glory days as the Motor City and the race riots of 1967 before moving out to the tree-lined streets of suburban Grosse Pointe, Michigan. To understand why Calliope is not like other girls, she has to uncover a guilty family secret, and the astonishing genetic history that turns Callie into Cal, one of the most audacious and wondrous narrators in contemporary fiction. Lyrical and thrilling, Middlesex is an exhilarating reinvention of the American epic.
Review
I went into this novel with incredibly high expectations because of the hype that surrounds it. And this novel held up to the majority of my expectations, only falling short in a one major area.
Following the lives of Calliope's ancestors was absolutely incredible. I've never read a novel about a Greek- American family and seeing the culture was fascinating. But I was even more fascinated with seeing the lives of the three generations of Calliope's family. This novel was an accurate portrayal of the struggles of being an immigrant family within the United States and the thought process of the various generations. There lives were interesting and dynamic. It was clear that Eugenides had spent a great deal of time developing each character. Everyone had some form of a personality, even those characters that had only a few pages in the book. It felt like Eugenides could take almost any character and write an entire book about them, they were that detailed.
Moreover, Eugenides explained the science behind Calliope's "astonishing genetic history" in an incredibly detailed way. I really enjoyed reading the science behind it because I am such a biology fanatic. I also really appreciated the focus on Calliope's mental state throughout the novel. It was beautifully complex and relatable, something that many novels often struggle to be when discussing mental illness.
Despite the great things with this novel, it wasn't perfect. Cal kept jumping back and forth between the the present and the narrative. It was a distraction and, quite frankly, I didn't much care about Cal's present- I was more interested in the history. To me, this distraction was an absolute irritation to me and, more importantly, I found these sections boring. I understood the value they brought to the novel as a whole but they felt more like a distraction. I wished that these inserts had instead been placed at the end of the novel, it would have made the novel stronger.
Overall, this novel was fantastic. It is definitely worth majority of the hype but if historical fiction isn't really your thing, this book will not your cup of tea. It's a fairly easy read and there is evident research and effort throughout the entire novel.
Rating