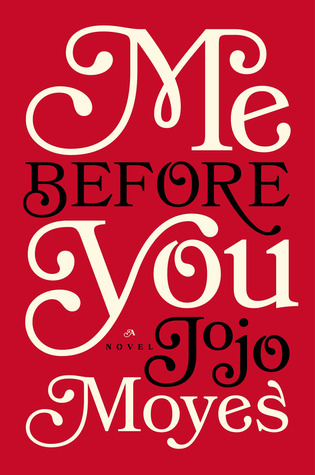 Title: Me Before You
Author: Julie Anne Peters
Publication Date: 5 January 2010
ISBN: 1423116186
Pages: 200
Genre: Contemporary Fiction, Romance
Format: Hardcover
Add it: Goodreads
Buy it: Amazon|Book Depository
They had nothing in common until love gave them everything to lose . . .
Louisa Clark is an ordinary girl living an exceedingly ordinary life—steady boyfriend, close family—who has never been farther afield than their tiny village. She takes a badly needed job working for ex–Master of the Universe Will Traynor, who is wheelchair bound after an accident. Will has always lived a huge life—big deals, extreme sports, worldwide travel—and now he's pretty sure he cannot live the way he is.
Will is acerbic, moody, bossy—but Lou refuses to treat him with kid gloves, and soon his happiness means more to her than she expected. When she learns that Will has shocking plans of his own, she sets out to show him that life is still worth living.
Review
This book = yes! When I saw the movie for the trailer I was immediately excited because the plot sounded incredible. When I realized it was a book-to-movie adaptation, I actually squealed because what's better than a movie? A book!
Me Before You is a pretty classic romance with a lovely twist. When I first started reading I was almost disappointed. The characters seemed pretty generic and boring- the overbearing mother, the spineless female lead , the heartless male lead, and even the irritating boyfriend.
Oh was I wrong!
The plot picks up when, like every other romance novel, Will- the heartless male lead- finally starts treating Louisa like a human. And Louisa starts falling in love. But she wants Will to fall in love too, she wants him to be happy. And while she's busy trying to make Will happy, he falls ill. And that's when the story stops being just romance and starts being awesome.
The punches just start rolling right on it. And the plot twists start turning. And the feels, gosh the feels, just keep happening. And I really liked it from then until the end.
But! I can't say I love it. After all, Louisa doesn't become someone great and happy because she's finally realized she needs to live her own life. No, instead she changes for a man. She could have easily realized that she deserved better for herself through Will, which I would have been fine with. But she doesn't. She changes because of Will and doesn't realize she deserves better until much much later.
Here's the thing though, this book handled a really heavy issue in a way that conveyed the seriousness of it. Will isn't happy being disabled and he doesn't want to live. And Moyes doesn't pretend like that feeling suddenly stops when you fall in love. In fact, as Moyes shows, falling in love makes it harder to be happy. And I felt that Moyes dealt with that issue in a tactful and honest way.
I truly recommend this book to die hard romance fans and fans of reading about stories dealing with disabilities and depression. It was a very captivating read and I urge you to make your own judgments on the story yourself.
Rating