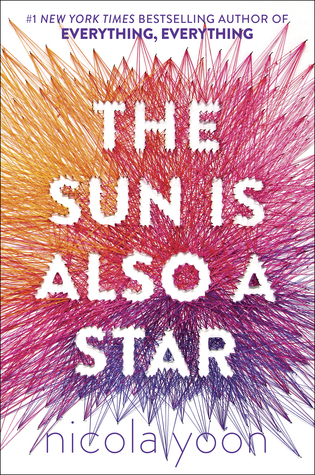 Title: The Sun is Also a Star
Author: Nicola Yoon
Expected Publication Date: 1 November 2016
ISBN: 0553496689
Pages: 344
Genre: Contemporary Fiction
Format: Softcover, ARC
Add it: Goodreads
Preorder it: Amazon|Book Depository
Natasha: I'm a girl who believes in science and facts. Not fate. Not destiny. Or dreams that will never come true. I'm definitely not the kind of girl who meets a cute boy on a crowded New York City street and falls in love with him. Not when my family is twelve hours away from being deported to Jamaica. Falling in love with him won't be my story.
Daniel: I've always been the good son, the good student, living up to my parents' high expectations. Never the poet. Or the dreamer. But when I see her, I forget about all that. Something about Natasha makes me think that fate has something much more extraordinary in store—for both of us.
The Universe: Every moment in our lives has brought us to this single moment. A million futures lie before us. Which one will come true?
Review
Contemporary is slowly starting to grow on me, I can feel it. I honestly think I've read more contemporary than anything so far this year. But it's because all of the contemporary I've picked up have been amazing and this novel is no different.
Daniel was my favorite character mostly because he broke stereotypes. He was dreamy eyed and romantic. He was slightly dramatic. And, in case you can't tell, he's a guy. I loved his optimism and his desire to be around this girl who really didn't want to be around him.
But Yoon didn't leave Natasha high and dry. She too was her own incredible character. She was completely relatable and such a realist. Honestly, I saw a lot of myself in her especially because of her skepticism of Daniel and his idea of love.
I'm typically not a fan of the love-at-first-sight cliche but it was done so well here. It wasn't love at first sight, Yoon made sure to make that clear. But there was definitely strong lust that quickly progressed into love. The beauty of this progression was that it was almost scientifically based and there was a clear established connection. You can practically feel when these characters fall in love and it was beautiful. I loved it.
But the true reason that this book resonated with me was because of how well Yoon integrated real life scenarios of being an immigrant family in the United States. She did such a phenomenal job depicting what it means to be an immigrant – Natasha from Jamaica- and what it means to be a first- generation American – Daniel who is Korean- American. She did so by having more than just Daniel's and Natasha's point of view, other characters told their stories and gave a three dimensional view of immigration in the United States. It was incredible and so well done.
Now the one thing that kinda killed it for me was the end/ epilogue (I just can't remember whether or not it was an epilogue). Regardless, I was so angry with the way the novel closed. The end, prior to the epilogue, was emotionally scarring and sad but great from a literary standpoint. I loved it. But then the epilogue completely destroyed it for me. But I know that for some people it would make them happy.
I honestly recommend grabbing this book when it comes out. It is a truly phenomenal novel with an incredible plot. I absolutely loved it. Only recommendation, if you reach the end and love that ending, do not read the epilogue.
Rating