Title: Empire of Storms, Throne of Glass #5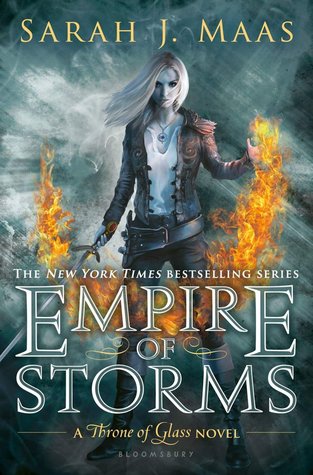 Author: Sarah J. Maas
Publication Date: 6 September 2016
ISBN: 1619636077
Pages: 693
Genre: Fantasy
Format: Hardcover
Add it: Goodreads
Buy it: Amazon|Book Depository
The long path to the throne has only just begun for Aelin Galathynius. Loyalties have been broken and bought, friends have been lost and gained, and those who possess magic find themselves at odds with those don't.
As the kingdoms of Erilea fracture around her, enemies must become allies if Aelin is to keep those she loves from falling to the dark forces poised to claim her world. With war looming on all horizons, the only chance for salvation lies in a desperate quest that may mark the end of everything Aelin holds dear.
Aelin's journey from assassin to queen has entranced millions across the globe, and this fifth installment will leave fans breathless. Will Aelin succeed in keeping her world from splintering, or will it all come crashing down?
Review
Y'all know I love Sarah J. Maas. And this was certainly no different.
I've been eagerly awaiting this novel since I read Queen of Shadows. And I didn't think that the series could get much better or more intriguing and yet, somehow, it did.
 *** Beware of Spoilers! ***
I absolutely loved being being back in the Throne of Glass world that has so rapidly changed in these books. It's been so interesting to see the changes of the characters as well as the changes and introductions of new and exciting creatures.
Thus far in the series, the creatures of the world haven't really captured my attention. However, Maas did an absolutely phenomenal job in this book and with these new creatures. Something about them were more terrifying and dark than they have been previously. It was incredible to be afraid of the creatures, not just being afraid for the characters fighting these demons.
Maas also did a phenomenal job of handling the multitude of perspectives in this novel. This is the first in the series where I was actually intrigued by literally every single plot line. It was fascinating to see characters from multiple perspectives and to be brought into the internal struggles of so many different voices. Furthermore, reading about the same scene from multiple characters also provided a perspective I didn't realize I was craving until Maas did it.
Now onto the characters.
Oh my gosh Lysandra is extraordinary. Everythin about her is simply breathtaking. Throughout this novel, she grew and developed so much as a person and as a shifter. It's easily one of the most memorable and impressive changes I've seen in a character. I would argue that I like her even more than I like Aelin, simply because her strength is so underrated and yet so awe-inspiring.
Despite that statement, I still hold a deep love for Aelin. In this novel, more so than the others, Aelin was incredibely cunning. She also adopted the persona of a queen going to war in this novel more than she has in previous novels. This Aelin was definitely not the same woman from the start of the series. And by the end of the book, she's a different woman still.
More importantly, the sass that Aelin posses was simply awe-inspiring. I seriously aspire to be as sarcastic and sharp and witty as she is in this novel. The great thing about her wit is that Maas never used it to diffuse a tense situation like so many other authors often do. Instead, her snide comments assisted in creating the tension and in showing just how sly she really is. It was marvelous to watch her wield words in this novel.
On the topic of hot headed characters, let's all just take a moment and acknowledge the greatness that is Aedion. He's such a badass character and remains extraordinarily human in spite of the horrible things that he's been through. Again, there was so much character growth with him in this novel. I especially appreciated how Maas got him to open up with Lysandra and the relationship that they continue to develop. It was beautiful and sweet, something that is desperately needed in a story as intense and harsh as this one.
Like I said at the start, their are a lot of plot lines to follow. One of my favorites is Elide's path to finding Aelin. She crosses paths with an interesting character but I'm not going to tell because slight spoilers. I will say that this character is someone that, if it weren't for reading from his perspective, I easily would have had an immediate distaste for.
I think that Maas' use of multiple perspectives aided her in creating characters who were rich and full and deep. They weren't characters you could simply hate or love, they were all flawed and all had reasons for being where they were. It created a story where I was invested every step of the way.
This installment of the series seemed focused on growing the characters, creating lives for them that extended beyond Aelin and her life. However, the story still focused on Aelin's journey and left me wanting more. There were a number of plot twists that I disliked because of what it meant for the characters but that I also applauded Maas for doing because they make the story and the series stronger. But the ending was the biggest plot twist of all, for both readers and characters alike.
I can honestly say that if you've stuck with the series this far, you won't be disappointed with this novel. It's incredible and you already I know it comes highly recommended by yours truly.
Rating