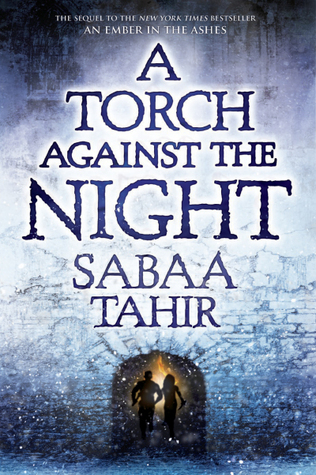 Title: A Torch Against the Night, An Ember in the Ashes #2
Author: Sabaa Tahir
Publication Date: 30 August 2016
ISBN: 1101998873
Pages: 452
Genre: Fantasy
Format: Hardcover
Add it: Goodreads
Buy it: Amazon|Book Depository
Elias and Laia are running for their lives. After the events of the Fourth Trial, Martial soldiers hunt the two fugitives as they flee the city of Serra and undertake a perilous journey through the heart of the Empire.
Laia is determined to break into Kauf—the Empire's most secure and dangerous prison—to save her brother, who is the key to the Scholars' survival. And Elias is determined to help Laia succeed, even if it means giving up his last chance at freedom.
But dark forces, human and otherworldly, work against Laia and Elias. The pair must fight every step of the way to outsmart their enemies: the bloodthirsty Emperor Marcus, the merciless Commandant, the sadistic Warden of Kauf, and, most heartbreaking of all, Helene—Elias's former friend and the Empire's newest Blood Shrike.
Bound to Marcus's will, Helene faces a torturous mission of her own—one that might destroy her: find the traitor Elias Veturius and the Scholar slave who helped him escape…and kill them both.
Review
So I already said in my review of the first book that I love Sabaa Tahir. And honestly, this book just continues my deep love for this book.
 *** Beware of Spoilers! ***
Before I even get to the actual book, I have to talk about this cover. This cover is gorgeous! This would definitely be one of those books that would have been a cover buy. It's so lovely and I definitely can't wait to see what the cover will look like for the third book.
Now, onward to the book itself.
I really enjoyed the two perspectives in the first book. Sabaa Tahir handled Elias' and Laia's separate voices extraordinarily well. And somehow she did even better with this book. Their individual voices are so distinct that I think even without the labels it would be extremely easy to figure out who's POV it is. More importantly, their POVs are interesting, I'm not looking forward to one POV more than the other which is usually pretty difficult to do.
Tahir also managed to add another point of view and it was awesome! The addition of this perspective definitely added complexity that the book definitely needed. And we got more depth on a character that we all love. Applause to Tahir for creating another deep and well-defined voice that only added to the novel.
Because there were more perspectives in this novel, the plot came across as being significantly stronger. It was more dimensional and felt more meaningful. The things that happened to the Laia and Elias made more sense than they would have without the additional perspective. And I think it made every plot twist a little bit more shocking than they otherwise would have been.
 Another thing that we see a lot more of in this novel is the character development. Specifically, Laia's growth into the role of a strong female lead. What I found particularly interesting was that she wasn't stereotypical at all. She was still kind and almost selfless, despite the amount of strength she portrayed. It's an interesting combination that I'm eagerly awaiting Tahir to explore further.
And the last thing that really made me love this novel – the descriptions. While prominent in the first book, this novel got it right. Every confrontation was depicted in a way that left you with a racing heart or in deep fear – most often both. Tahir has a phenomenal grasp on description so that it doesn't overpower the story nor leave the reader asking a million questions. There were the occasional bits that had too much description, making the plot seem slower but these were infrequent. Overall, the descriptions added to the story. Every violent moment was violent and every emotion felt afterwards was depicted in such a realistic way. It was fascinating and inspiring to read.
Somehow, Tahir managed to outdo herself. An Ember in the Ashes was truly amazing, but this was even better. I loved it and it comes highly recommended. Sabaa Tahir and this series is definitely vying for current favorite against Sarah J. Maas and the Throne of Glass series which, for you long time followers, means that Tahir is a marvelous author.
Rating