I'm so happy to have been nominated for the Liebster award! Thank you so much to Maxine @ The Rogue Storyteller for nominating me. She's a wonderful blogger with many incredible reviews, I highly recommend her. Check out her answers to this award here.
Background
What is the Liebster award? Well, from what I've read, it's an award created for bloggers with less than 200 followers. The point: getting amazing bloggers recognition and love for their work. So basically, an all-around great award.
Rules
Thank the person who nominated you and post a link to their site on your blog
Display the award on your blog
Answer 10 questions about yourself, which will be provided to you by the person who nominated you
Nominate 5-10 other bloggers for the award
Create a new list of questions for your nominees to answer
List these rules in your post
Inform the people/blogs that they have been nominated for the Liebster award and provide a link for them to your post so they can learn about it
Maxine's Questions
Which three books define you as a reader?
Oohh, this is hard. I'd like to think that I'm a pretty diverse reader so I'm going with:

Arcadia by Tom Stoppard was the first book I could think of simply because the characters in this novel seriously spoke to me. All of the characters, especially the female characters, were so opinionated and independent. And there was so much math. I love math, I love books that have math (and science), and this book is so incredible. The shocking thing is that I haven't written a review on this blog.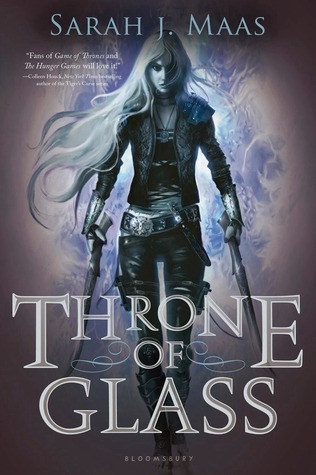 Throne of Glass by Sarah J. Maas just describes my love for words and fantasy absolutely perfectly. Again, this one has seriously strong characters which is what initially drew me into this story. But my love for the plot which is so intricate and realistic (in the only way that fantasy can be. And the relationships in this series is truly phenomenal. I highly recommend this series.
Junie B. Jones Is a Graduation Girl by Barbara Park is a series that is so near and dear to my heart. It's the story that began my love for independent characters. But I think this defines my love for contemporary and real life issues in fiction. Even though it's a children's series, it's such a beautiful and funny series.
What's your favorite time period to read about?
Always and forever the future. Anything set in the future is absolutely marvelous. My recommendations:
What is one of your favorite posts that you wrote?
Can I cheat? Is that allowed? I'm going to give you two.
The first is one of my reviews. I'm particularly partial to Harry Potter and the Cursed Child. You should definitely check it out.
The other one is one of my more discussion based posts. It's one of my older posts but it describes me as a person to my core. It's Breathe and all I can say is that it's one you just have to read it.
How do you feel about pineapple on pizza?
No! Do not attempt to make something inherently unhealthy healthy. I mean I don't really care that much but I do think it tastes pretty gross. Part of it may be because I really don't like pineapple.
If you're not reading, what are you doing?
Studying. Honestly it's the thing that takes up most of my time. If we're talking about my free time, I'm probably playing Sims. I have a really unhealthy relationship with Sims.
Are there any popular books/series that you haven't read yet?
The Illuminae Files by Amie Kaufman. I feel like there is so much love for this novel that I honestly have no interest in reading. I know, I know don't shoot me. The format really doesn't peak my interest. And that's all going to
If you could effortlessly learn something new right now, what would it be?
I would learn every language imaginable at a native-speaker level. I feel like languages are one of the fastest ways to begin understanding a culture and culture is so important and interesting to me. More importantly, I would just love to be able to converse with people with in their native tongues. It puts people at ease and allows for so much more expression.
What's your go-to book recommendation that you like to give?
My recommendations are based on what I know of the person. I never have a go to recommendation.
When do you like to work on posts? Are you a day or night person?
I definitely would prefer to work on posts during the day but the reality is I end up working on all of them during the night.
What would be your ideal day?
My ideal day would be an early 6 am wake up call that starts with an hour long workout – cardio and strength – followed by yoga. Then reading while I have breakfast. The occasional bout of Sims and HGTV thrown in there. Writing a couple of posts before lunch with the family.
Post lunch would probably consist of more reading and Sims. Probably some calculus or algebra problems sprinkled in with some genetics stuff. Then back to reading. And eventually I'd fall asleep, probably having accidentally skipped dinner.
But I think I would like that for seriously one day and then I'd need to get back into my normal routine. "Too much of a good thing is bad" and all that.
And the Award Goes To…
Shouni @ Through the Book Portal
I don't know those many bloggers ::blushes:: but these bloggers are amazing! They probably have no idea how often I check their blogs (I have a tendency not to comment, even when I love something) but I've read a lot, if not all of their posts. Hope you guys have fun answering these questions!
My Questions
Why did you start blogging?
Is there a character in any book that describes you accurately or that you identify strongly with?
What genre are you most apprehensive about trying and why?
What book has been on your TBR the longest?
Where would you like to travel to the most – both fictional and real?
What word/phrase do you use often?
If you could own any animal, what would it be?
Hot chocolate, tea, or coffee when you're reading?
Is there a popular love-to-hate book/series that you really enjoyed?
What is the worst thing that you've done to a book?