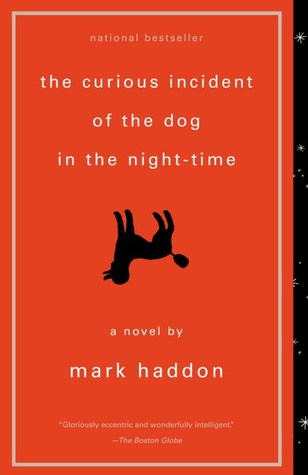 Title: The Curious Incident of the Dog in the Night-Time
Author: Mark Haddon
Publication Date: 18 May 2004
ISBN: 1400032717
Pages: 226
Genre: Young Adult Fiction
Format: Softcover
Add it: Goodreads
Buy it: Amazon|Book Depository
Christopher John Francis Boone knows all the countries of the world and their capitals and every prime number up to 7,057. He relates well to animals but has no understanding of human emotions. He cannot stand to be touched. And he detests the color yellow.
Although gifted with a superbly logical brain, for fifteen-year-old Christopher everyday interactions and admonishments have little meaning. He lives on patterns, rules, and a diagram kept in his pocket. Then one day, a neighbor's dog, Wellington, is killed and his carefully constructive universe is threatened. Christopher sets out to solve the murder in the style of his favourite (logical) detective, Sherlock Holmes. What follows makes for a novel that is funny, poignant and fascinating in its portrayal of a person whose curse and blessing are a mind that perceives the world entirely literally.
Review
This was an intense read that I absolutely loved.
My favorite part of this book was definitely the perspective. From what I could gather, Christopher had autism. And this mental disability created a perspective was absolutely fascinating. I have a deep fascination with how other peoples' brains take in information and what their though processes are. This book really delved deep into one person's version of autism. It was clear that Haddon had taken the time to do some deep research on how their brain's functions – specifically because he has worked with people with autism when he was younger.
Truthfully, this perspective definitely carried this book. It wasn't an overly complex plot. If it were from the perspective of a neuro-normal person, it would have been boring and awful. But this perspective took a relatively uninteresting scenario and made it absolutely fascinating because I was viewing a perspective that was completely different from mine. It elevated a situation that I wouldn't have otherwise cared about and made it an adventure that stretched my own mind and created a strange out of body experience.
The other thing I really enjoyed was the very simple plot. The uncomplicated plot paired with the thought-provoking point of view well. However, the uncomplicated plot was still interesting because it was a mini mystery. Yet the mystery never felt like it was overpowering the story and was instead guiding a part of a life story. It was beautifully done.
It's important to understand that this is not a mystery novel. That isn't the intention of this novel at all. The murder mystery is simply a frame for the story to exist. It's almost a setting more than a focus. However, it is an important facet to the story.
My biggest complaint was that it wasn't long enough. It began to feel a little rushed towards the end which is when a lot of the good stuff start happening. I felt like Haddon could have probably explored the ending a little bit more and offered a bit more of Christopher's head space. At about 230 pages, it was a surprisingly quick read and I respect that. But as someone who loves large books and character exploration and explanation, I felt the book could have been improved by stretching the page number. Maybe even just by twenty or thirty pages.
This book has created a lot of different and contentious feelings amongst readers, as evident by Goodreads reviewers. I recommend it mostly for that reason. But I honestly recommend it to people who want to explore a state of mind or point of view that is different from their own. If you're looking for a quick, intriguing, and thought-provoking story, this is the book you're looking for.
Rating
---
Have you read The Curious Incident of the Dog in the Night-Time? What did you think? Did you like the perspective or no?