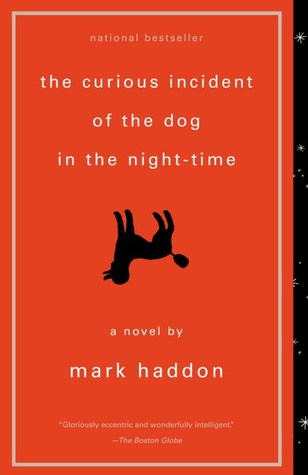 Title: The Curious Incident of the Dog in the Night-Time
Author: Mark Haddon
Publication Date: 18 May 2004
ISBN: 1400032717
Pages: 226
Genre: Young Adult Fiction
Format: Softcover
Add it: Goodreads
Buy it: Amazon|Book Depository
Christopher John Francis Boone knows all the countries of the world and their capitals and every prime number up to 7,057. He relates well to animals but has no understanding of human emotions. He cannot stand to be touched. And he detests the color yellow.
Although gifted with a superbly logical brain, for fifteen-year-old Christopher everyday interactions and admonishments have little meaning. He lives on patterns, rules, and a diagram kept in his pocket. Then one day, a neighbor's dog, Wellington, is killed and his carefully constructive universe is threatened. Christopher sets out to solve the murder in the style of his favourite (logical) detective, Sherlock Holmes. What follows makes for a novel that is funny, poignant and fascinating in its portrayal of a person whose curse and blessing are a mind that perceives the world entirely literally.
Review
This was an intense read that I absolutely loved.
My favorite part of this book was definitely the perspective. From what I could gather, Christopher had autism. And this mental disability created a perspective was absolutely fascinating. I have a deep fascination with how other peoples' brains take in information and what their though processes are. This book really delved deep into one person's version of autism. It was clear that Haddon had taken the time to do some deep research on how their brain's functions – specifically because he has worked with people with autism when he was younger.
Continue reading "Review: The Curious Incident of the Dog in the Night-Time – Mark Haddon" →